5 Ways to Increase Supply Chain Performance
Wondering how to improve supply chain performance? We break down five key steps to improving supply chain efficiency and reducing lead time.
The supply chain is a crucial part of your inventory management and overall business strategy. An efficient supply chain helps your business save money and improve customer satisfaction by reducing wait times for in-demand products. In short, it gives you a real competitive advantage against other companies in your industry.
On the flip side, an ineffective supply chain can be a huge drain on your resources, so it's important to strategically plan so your supply chain is as lean and cost-effective as possible. Here are some management tips to help you maximize performance from your suppliers, logistics providers, and in-house team.
Steps to increase your supply chain performance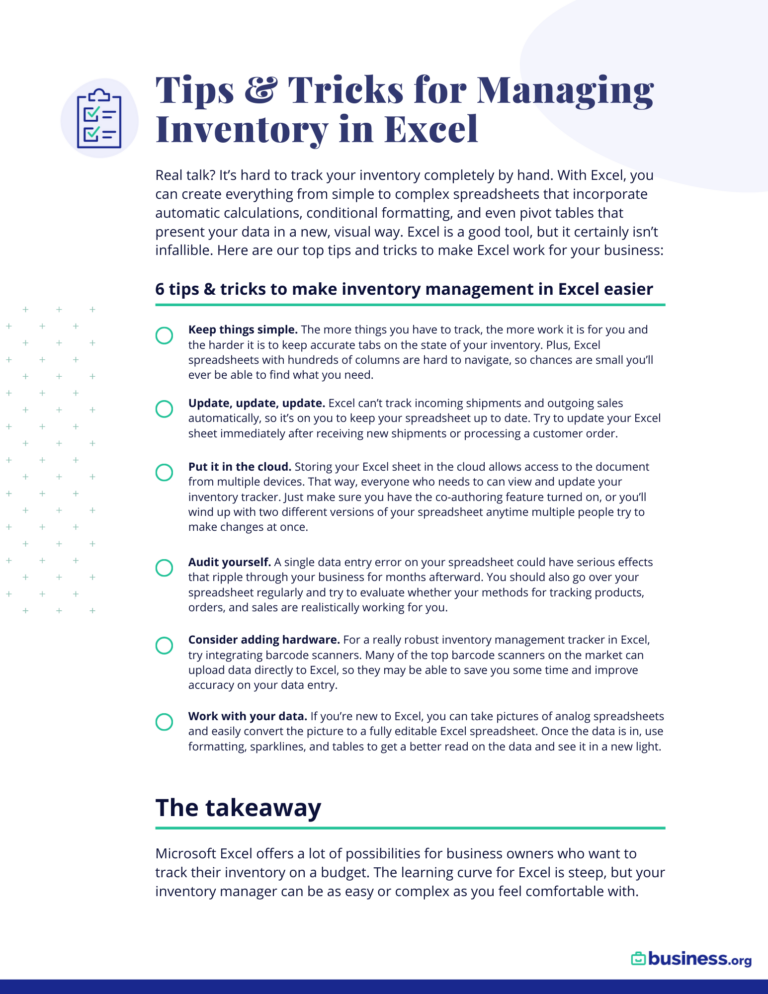 Get your free template
Keep your inventory organized, monitor shipments, and track vendor reliability with our customizable Excel inventory template and our included tips and tricks.
1. Evaluate your suppliers
A supplier–business owner relationship without good communication is doomed to fail. So start by analyzing the effectiveness of your communication with your suppliers. Do they answer your emails in an appropriate amount of time? Are you able to understand each other easily? Or do you waste valuable time re-explaining the same thing over and over?
Good suppliers are responsive. The last thing you want is to end up taking a loss on unsellable goods just because your vendor didn't respond promptly to a pivotal design change.
Suppliers absolutely must be reliable. If your supplier regularly shorts you on your purchase orders, ships orders late, or in any other way fails to follow through on their promises, it's going to negatively affect your supply chain. In that case, a quick way to improve your supply chain would be to cut ties with suppliers who have proven themselves to be liabilities. Try checking out supplier listings on sites like Alibaba to find an alternative manufacturer that can meet your needs.
If you want to maximize your supply chain, you should consider how fast your suppliers are able to complete your orders. If a supplier takes weeks to complete production on your order, you have to reorder items earlier to avoid stockouts—which brings additional risk if your demand planning winds up being off.
To maximize supply chain efficiency, consider how quickly your suppliers are able to ship your orders once they're completed. If you're running a lean supply chain where you're ordering only small quantities at a time, it may not be efficient to operate a global supply chain with a supplier halfway across the world. A closer local vendor may be a better choice simply because you don't have to worry about long lead times if your demand planning is off.
2. Analyze your supply chain strategy
Successful supply chains are lean, cost-efficient, and dependable. So if you want to ensure your supply chain costs stay low while your process remains reliable, reevaluate your supply chain strategy and goals to ensure you're using the best possible plan for your business.
Here are some questions to consider:
Is my supply chain strategy appropriate for my business type? Make sure your strategy suits your business model. For example, online-only businesses may want to consider a dropshipping strategy for their supply chain. Meanwhile, B2B companies may see supply chain improvements by switching to a wholesale model.
Am I making the best use of the third-party logistics (3PL) providers available to me? Evaluate your options and make sure you're not missing out on any deals. If your supplier prefers to use a specific 3PL provider but that provider is more expensive, work with your supplier to see if they'd be willing to ship their goods using a different logistics provider.
Is my supply chain strategy resilient? If

the

 COVID-19 pandemic proved anything, it's how devastating supply chain disruption can be to a growing business. Think about improving your supply chain resilience by partnering with backup vendors and logistics companies that can take over your supplier or shipping needs if needed. That way, you're protected if unforeseen events disrupt your supply chain model.
If you're not already using historical demand data to forecast customer demand for your products, implementing demand planning could improve your supply chain efficiency. For example, if you know that your red, white, and blue sunglasses sell best in June, July, and November, work with your supply chain partners to ensure you'll have enough supply to meet demand.
Good supply chain management also involves planning around your suppliers and other factors, like location. For instance, if you're working with a Chinese vendor, you may need to plan your purchase order timing to accommodate for the two-week holiday season around Chinese New Year. This ensures you get your products delivered in time and helps you cut supply chain costs (since you don't have to pay additional storage fees while your products sit on a dock across the ocean).
Planning shoppers year-round
With supply chain issues and product shortages continuing to occur occurring, we recommend planning ahead and having products on hand before customers need them, otherwise you may not be able to fulfill supply. Many stores are already facing shortages that will only get worse as ecommerce demand increases. Stock up now and your customers will thank you later.
A data silo is a situation in which just one user or group has access to information that's needed across multiple users or groups. And data silos are bad news for any business trying to run a lean supply chain. If your demand planner, procurement agent, and supply chain manager don't have access to the same data, it can lead to costly slip-ups (like double ordering).
Using a supply chain management platform (or even an inventory management platform) can provide greater supply chain visibility across your entire business. If you really want to, you can even open it up to your entire supply chain, including 3PL providers. This heightened visibility helps minimize mistakes and smooth out a lot of kinks in your supply chain operation—which ultimately means more cost savings for your business.
Just because something works well today doesn't mean it's going to work well tomorrow. Smart supply chain professionals know this and keep tabs on key elements of their supply chain to identify weak points. Inventory management services that include both supplier and logistics management platforms are a good way to quickly identify problem areas in your supply chain efficiency. But you can also look for problem areas and implement fixes manually.
At least once per quarter, take a look at your recent supply chain performance. Try to identify any emerging patterns. Has your business been experiencing an uptick in late shipment, unfulfilled orders, products, or inconsistent quality? If so, try to identify the source of those issues in your system—whether it's a supplier, a 3PL provider, or improper warehouse handling.
Once you identify where your problems are coming from, you can determine the best course of action to see supply chain improvement. That may mean switching to a different vendor, trying out a new shipping service, or implementing better training for warehouse employees.
If you're currently unsatisfied with your supply chain performance, there is hope. Focusing on finding reliable suppliers and logistics providers, building supply chain sustainability, and facilitating the flow of information across your business can go a long way toward cutting costs and improving customer satisfaction. Just remember: it's a process, and continuous improvement is the ultimate goal.
Want help with your supply chain management? Check out our guide to the best inventory management software to see which platform best suits your needs.
Want more options? Fund your business with a personal loan.
Enter your loan needs and qualifications to get matched with a list of lenders best suited to you. Then, sort by the financing factor that you find most important. (Note: not all lenders allow personal loans for business use.)
Supply chain improvements FAQ
Improving your supply chain comes down to several factors, five of which we cover in this article. First, it will be important to check that three sources are reliable: your suppliers, logistics providers, and warehouse workers. Then, you will need to have a strategy, demand plan, and monitoring plan to ensure your supply chain is operating with seasonal efficiency. Lastly, you will need to eliminate data silos to minimize supply chain errors. 
Supply chain improvement helps lead to financial efficiency and overall success. This is because it can minimize delays and double ordering, which in turn, minimizes the cost per customer and improves your bottom line.
Disclaimer
At Business.org, our research is meant to offer general product and service recommendations. We don't guarantee that our suggestions will work best for each individual or business, so consider your unique needs when choosing products and services.