4 Essential Hardware Products for Starting Your Business
Gone are the days of the manual cash register, replaced by an ever-growing pool of computer-enabled business hardware solutions. In this article, we plunge into current small-business hardware solutions so you can automate and simplify your business operations right off the blocks.
It's impossible to imagine a scenario where having a computer wouldn't be beneficial to your business in some way. That said, there are a lot of computing options to choose from these days and knowing which one you need is crucial to getting value from your purchase.
When deciding on a computing device, it's best to err on the side of too much computing power. Even if you can run your business on a smartphone, you may ultimately save time and headache by upgrading to a tablet or laptop.
In the end, the choice hinges on your budget and needs. You may not have the cash for an ultra-powerful desktop computer, but that doesn't mean you can't get the job done on a laptop or tablet.
The first thing to consider, then, is whether you want a desktop computer, laptop, tablet, or smartphone.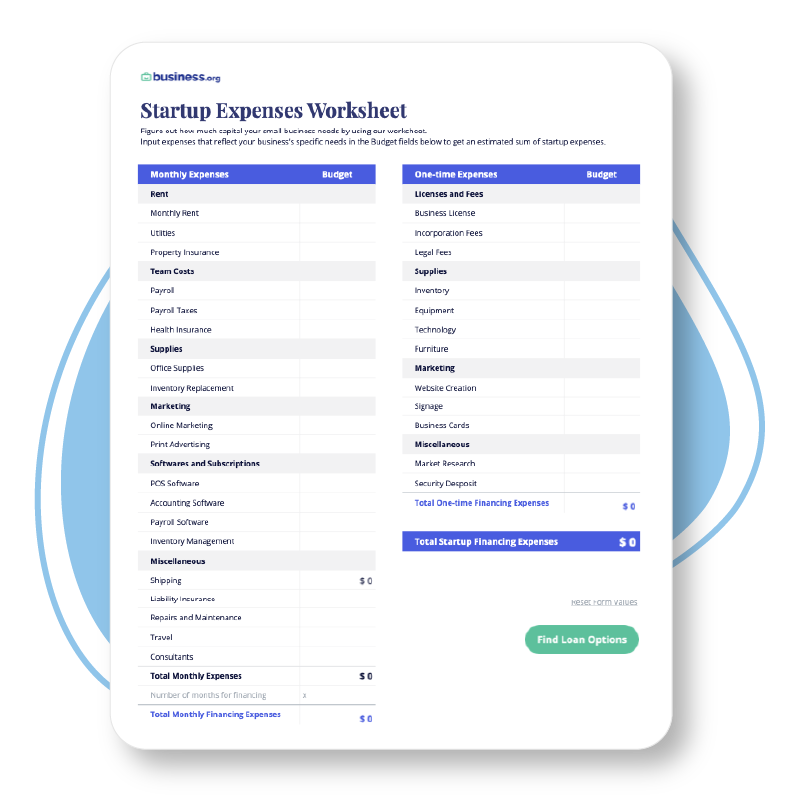 Do you know how much it'll cost to start your business?
Try our free startup costs worksheet to calculate expenses and estimate how much capital you need to launch.
Let's start with the smallest of the bunch. There's so much you can do on a smartphone these days. You can do your accounting, send emails, and even manage a complicated point-of-sale (POS) system. That said, there are always some sacrifices when doing these tasks from a smartphone.
Smartphone applications can be less intuitive than their counterparts on bigger machines. If you need to create and share complicated spreadsheets, for example, that task may prove tedious on a smartphone. Not impossible, but certainly not optimal.
Thus, the most important consideration as to whether you should try to run your business from only a smartphone is the kind of computing tasks you need to accomplish regularly.
For a food truck, a smartphone could very well get the job done. You can process payments using a smartphone and a mobile reader. You can order kitchen equipment and ingredients. You can negotiate business opportunities over email or phone.
So, for a smaller business that doesn't need a lot of extras, a smartphone may be adequate. But, of course, you could always upsize and get a tablet.
Tablets are similar to smartphones in interface and app design, but they can be a lot more functional thanks to a larger screen and more computing power. You actually can make decent spreadsheets and documents on a tablet. It's easier to draft longer emails, and you can buy productivity extras like a bluetooth keyboard case to increase your typing speed.
Tablets also open up a world of possibilities via point of sale. With the right POS system, you can effectively manage your whole business from a tablet. We'll go into more detail on this in a later section.
You can run a more serious business operation from a tablet. It's a good choice for businesses that don't need to do anything fancy, like programming a website, but are looking for a portable smart device that can handle simple to moderately complicated tasks.
Laptops and desktops can essentially do the same thing, but desktops can possibly do computing tasks at greater speed and efficiency.
For example, if you're starting a video production hustle, it's totally possible to edit and render video on a laptop. But you can also build a desktop computer with tons of RAM and a good CPU to cut down significantly on your rendering times.
Resource intensive programs like video and audio editing software often require a more powerful machine. That said, if you just need a screen and a keyboard for your small-business blogging site, a laptop without a ton of power will likely be fine.
Also, laptop portability is a major consideration. If, for example, your business requires you to do a lot of traveling, a laptop is really a no-brainer.
Best POS Systems for Small Businesses
One of the hardware products that many businesses need is a way to take payments from customers. That said, it may seem a little odd to add something like a POS system to an essential hardware products list because not all businesses need a POS system to accept payments from consumers.
This is a fair assumption, but it would be rare for a business to process absolutely no transactions whatsoever. POS systems aren't just about accepting money from customers; they can also help you set up digital methods of payment acceptance for more complicated business-to-business(B2B) transactions.
All that said, getting a POS system may seem relatively easy at first, but deciding on the right product can be quite complicated.
A basic processing system is built to do one thing: take payments. It comes with no frills or extras, just a simple piece of hardware for accepting credit cards. You should look for a processor that accepts all modern forms of payment:
Swipe, dipped, and tapped card payments
Mobile wallet payments, like Apple Pay,
Samsung Pay, and Google Pay
Alternative currency payments, like cryptocurrency
Each processor will have its own limitations on what it'll accept, but the more ways your customers can pay, the better.
The hardware you'll need to accept payments is a simple processing terminal. These terminals come in many shapes and sizes. Some will hook right up to your mobile phone. Others need to be plugged into power and connected to Wi-Fi.
In addition to buying hardware, you'll have to choose a processing company. The processing company determines the fees you pay to process, so it's best to find a processor that has both cheap fees and a solid reputation.
More complicated POS systems
If you want to build out your point of sale to something more substantial, there's a lot of ways to go. Specifically, there are a ton of hardware options available:
Smart terminals with built-in computer chips for running POS software
Cash drawers
Barcode scanner
Product scale
Kitchen order screen
Portable smart terminals
Each of these pieces of hardware adds to your POS functionality. That said, some business types may not need certain items. For example, a business that doesn't sell any products based on weight wouldn't need a product scale.
If you decide to invest in a smart POS terminal, you'll be able to do a ton of crucial business tasks from one place:
Manage employees
Generate business reports
Build loyalty programs
Manage inventory
Create gift cards
Manage restaurant tasks
And more
One of the most essential business technologies is internet access. Getting the internet up and running requires some hardware—a modem and a router, for example. The internet hardware you use can be dependent on who your internet service provider (ISP) is. Some ISPs offer proprietary hardware for routing the internet.
Another big "if" with the internet is the fact that you'll be limited to the ISPs in the area where your business is set up. Once you know where you'll be getting your internet, the next big question is what hardware to buy.
We recommend picking your router carefully. Make sure it can download and upload at the speeds you are paying for. Also ensure that it can handle the proper number of users. Work with your ISP to determine the best internet speed and router to handle the job.
Some kinds of hardware are completely unnecessary to some businesses and vitally crucial to others. This section examines some of the optional but still relatively ubiquitous hardware on the market:
Website server. If your business is a type of website, you have the option of sharing an online server or paying for a dedicated server. The nice thing about having your own dedicated server is that you can have more programming freedom. That said, for businesses that just want to host a simple website, a dedicated server is unnecessary .
Printer. While paper documents have mostly been replaced by digital documents, some businesses still need to use a lot of printed materials. These businesses should find a reliable printer that can handle the job.
External storage. It's good practice to back up any vital data. While cloud storage is one way to do that, it can also be smart to have a physical copy of your important data because cloud backups are only useful as long as the internet connection is strong.
You may need some, all, or none of these pieces of hardware. That said, we do strongly recommend figuring out a data backup solution because nothing can halt your business like catastrophic data loss.
Knowing what hardware to invest in as a young business is tricky. Especially since money is often tight. The key to getting the essential hardware you need is finding that perfect balance of affordable and functional. Hopefully we've made that job a little easier for you.
In fact, we can make the job of finding a perfect POS system even easier still. Check out our picks for the best POS systems.
Related read: The Best Office Shredders to Keep Your Small Business Safe and Secure
Disclaimer
At Business.org, our research is meant to offer general product and service recommendations. We don't guarantee that our suggestions will work best for each individual or business, so consider your unique needs when choosing products and services.