Top 5 Reasons to Offer Employee Benefits
A good benefits package will help your business just as much (if not more) than your employees.
Lots of businesses offer employee benefits, and lots of employees expect them. But if you've got a small business and a tight budget, you might wonder if employee benefits are really worth the cost.
The short answer? Yes, benefits matter. A good benefits program helps you attract and keep the best employees, leads to happier and more productive workers, and ultimately can help your business thrive.
To show you what we mean, let's dive into the top five reasons you should offer an employee benefits package. (And after that, we'll talk a bit about how you can get a new benefits program started.)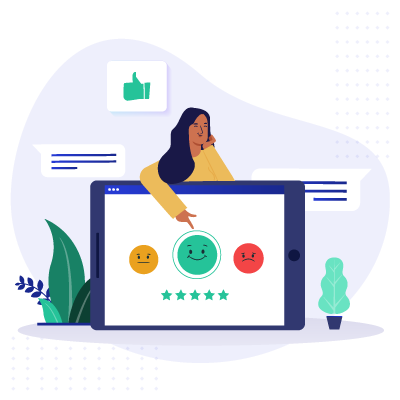 Expert Advice, Straight to Your Inbox
Gain confidence in your business future with our weekly simple solutions newsletter.
1. Attract the most talented employees
If you want to hire the best employees―talented, motivated workers who can help your company succeed―then a solid employee benefits package is a great place to start.
That's because, well, everyone else is doing it. Many (if not most) businesses offer some kind of employee benefits. Even small businesses, in fact. One study found that 50% of businesses with fewer than 50 employees offer health care benefits, and 96% of businesses with over 100 employees do.1
In other words, to be competitive with hiring, you really need employee benefits. Otherwise, you'll probably lose the best candidates to businesses that offer a benefits package. Because for many workers, a benefits program can be a deciding factor in choosing where to work. It's an important part of their overall compensation.
But it goes beyond compensation. When your business offers benefits, it shows that you believe in your company, that you have strong enough finances to afford benefits, and that you want to invest in your workforce. Put simply, benefits suggest you've got what it takes to be a great employer―which in turn attracts great employees.
Oh, and while we used insurance as an example, you might want to consider more comprehensive benefits. Because again, better employee benefits can be the deciding factor for an in-demand job seeker. If you want top-notch workers, you need top-notch benefits.
2. Minimize employee turnover
While hiring matters, you also need to think about keeping your employees around. And once more, benefits come in handy.
Like we said when talking about hiring, a good benefits package can keep your workers from getting swayed by other job offers. And when you offer benefits, you'll help your employees feel the company (and their employment) is stable and secure, so they're less likely to start putting out resumes.
The end result? Lower employee turnover and higher employee retention for your business.
That means you'll save money on hiring and training, because you won't have to do either of those as often. It means you're less likely to have projects and clients fall through the cracks when employees leave. And it means you can build a knowledgeable team that can quickly and expertly tackle all sorts of problems that would trip up a younger team―all thanks to the employee loyalty you've built with benefits.
If you want to keep employees around for the long haul, you need a benefits package that makes people want to stay.
3. Keep a healthy workforce
You probably know firsthand that when you feel better, you work better. So if you want a more productive employee, benefits―especially health benefits―can help.
For example, if you offer dental insurance, a minor cavity never has to become a complicated root canal that distracts your employee and forces them to take several days off work. The same is true of vision insurance and medical insurance.
Paid sick leave works the same way. By encouraging employees to stay home when they feel ill, you can keep one sick worker from infecting an entire team. Wouldn't you rather have one employee out than a dozen?
Plus, sick leave lets your workers focus on healing up and getting better. So while an employee may be gone for a day or two, they can come back refreshed and ready to go―rather than struggling to to work through illness for days and even weeks.
The point is, healthier employees can lead to a healthier business. It makes good business sense to offer health insurance and other wellness benefits.
4. Boost employee productivity
At this point, we've told you how a strong benefits package can get you talented workers, keep them around long term, and give you a healthier workforce. The natural result of all those things? More productivity.
Think about it: You'll have hired a more talented, motivated workforce that can buckle down and get things done. You'll have kept employees around long enough to develop good workflow and processes. And you'll have helped your people stay healthy, giving them the physical ability to stay productive too.
And benefits will give your employees the mental headspace to stay productive too. Your workforce won't feel as worried about affording health care, saving for retirement, taking care of their children, or other concerns that benefits can address. That means they have more brain power and motivation to put to work for your business.
Not a bad tradeoff, is it?
5. Enjoy better worker morale
Finally, having a good benefits package can improve employee morale, leading to a better workplace overall.
After all, providing employee benefits will help your employees feel you care about their personal needs. That, in turn, can improve employee loyalty and satisfaction. They'll bring their best to work. (As an added bonus, that makes your job as a business owner and boss much more satisfying.)
And that, in turn, can create a good cycle for you. Happy, loyal employees will speak highly of your business, making it easier for you to attract talent when you have job openings. And then those new employees will stick around because of your great benefits―and, well, you see where this is going.
For great employee satisfaction and the morale to go with it, you've got to have good benefits.
Getting started with employee benefits
Employee benefits examples
Not sure what you should include with your benefits package? We can give you some ideas.
A basic benefits package might include the following:
Medical insurance
Dental insurance
Vision insurance
Sick leave
Vacation time
Parental leave
Retirement plan
Of course, you can tailor your benefits program to your business. Some companies, for example, choose to offer not just a 401(k) retirement plan, but also matching contributions to that retirement plan. Or some businesses will choose to offer unlimited paid time off, while other businesses will stick to a set number of sick leave days and vacation days.
And you can always choose to offer more and create a super competitive employee benefits program. Aside from the basic benefits mentioned above, the best employee benefits packages often offer perks like these:
Disability insurance
Life insurance
Tuition reimbursement
Gym memberships
Financial wellness programs
Commuter benefits
Pet insurance
Childcare
Catered meals
Time off for volunteering
The sky's the limit. Yes, you'll need to think about what your business can afford and what kind of benefits your workforce actually wants.
Just remember that better benefits can lead to a better business.
While offering employee benefits may cost a bit more initially, the long-term advantages can greatly outweigh those costs and contribute to your overall success. Your benefits will attract better employees and keep them around for the long haul. You'll reap the rewards of a healthy, productive, and satisfied workforce.
Put simply, an employee benefits plan is worth the cost. And remember, you don't have to offer all the benefits in the world right away. Your small business can always start off with essential benefits (like medical insurance) and expand the employee benefits program as your workforce grows.
But whether you start big or small, we think your business will, well, benefit from benefits.
If you're hoping to attract better talent with your new benefits, it might be time to update your hiring process too. Make sure all your workers get off on the right foot with the best employee onboarding software.
Employees will value different things; however, the overwhelming evidence shows that the benefits that are most sought-after include health benefits and flexibility. People want to ensure their health is taken care of and also want the ability to structure their lives according to their own timetables. That can't be done unless remote work and flexible hours are options in their organization.
Attracting top talent and employee retention are contenders for offering benefits. There's evidence to show that 88% of people would rather take a lower-paying job with benefits than a higher-paying job without benefits—so that will just attract talent, period. And once you've gone through the hiring process, benefits will continue to be advantageous as they can boost morale and productivity, leading to greater employee happiness and increased retention.
Disclaimer
At Business.org, our research is meant to offer general product and service recommendations. We don't guarantee that our suggestions will work best for each individual or business, so consider your unique needs when choosing products and services.