SBA Business Loan Calculator: Estimate Your SBA Term Loan Costs
Find out how much your SBA loan will cost you with our SBA business loan calculator.
Your Results
Total Principal Paid: $-
Months to Payoff: -
| Payment # | Payment | Principal | Interest | Total Interest | Balance |
| --- | --- | --- | --- | --- | --- |

Find the best small business loan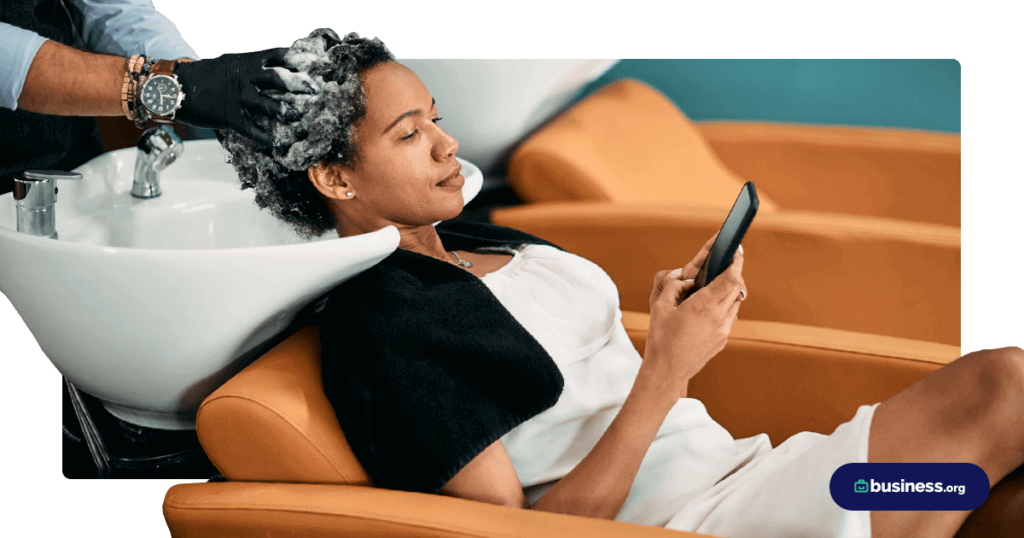 If you want a good deal on business financing, you don't have to look any further than loans backed by the U.S. Small Business Administration (SBA). SBA loans have low interest rates and long terms, making them a great option for many businesses.
But even with those low rates, you need to understand how much your SBA loan will cost you over the years. After all, you want to make sure your loan is a good investment.
Our SBA business loan calculator can help you do just that. You can use the calculator above. The guide below will explain the ins and outs of using and interpreting the SBA loan calculator. We'll also give you some details on what affects your SBA term loan cost.
How to use our SBA loan calculator
Our term loan calculator can help you estimate your loan costs for all types of SBA loans. Here's what you need to know to use it most effectively.
To get started with our SBA loan payment calculator, you'll need three pieces of information:
Principal loan amount (how much you're borrowing)
Interest rate
Term length (how long you have to repay the loan)
If you don't have exact numbers, it's okay to give your best guess. After all, the loan payment calculator will help you estimate your loan costs―you'll need an official loan offer from a lender before you'll know the exact loan costs.
Once you've put in your numbers (and make sure you pay attention to whether your term length is in months or years), you can press the calculate button to see your results.
These results will give you some helpful data:
Estimated monthly loan payment
Total payback amount (principal plus interest)
Amortization schedule
The estimated monthly payment will help you decide if you can afford to pay back the loan. You'll want to compare this number to your regular monthly cash flow. If you have enough spare working capital to pay the loan, you're all set to borrow. If you don't, you should look for a smaller loan or a lower interest rate.
With the total loan payback amount, you can see how much you'll pay over the loan term. This number includes your loan principal (the amount you borrowed) and the interest you pay. As you can guess, the higher your interest, the more you should expect to pay over the loan term.
The amortization schedule lets you see each scheduled monthly payment. This table will break down how much of each payment is interest and how much of it is principal. You can also see how much total interest you'll have paid and the remaining loan balance with each SBA loan payment.
Amortization schedule
Our loan payment calculator assumes that you have a fully amortizing loan, which means that as long as you make your monthly payments, you'll pay off the entire loan balance at the end of your loan term. Some SBA loans, though, don't fully amortize, so they have large balloon payments at the end of the term to pay off the remaining balance. Make sure you know which type you have.
While we hope you find our free business loan calculator helpful, we do want to point out a couple limitations you should be aware of.
First, the SBA loan calculator (like most financial calculators out there) doesn't account for business loan fees. SBA loans usually come with several fees, including an SBA loan guarantee fee, a packing fee, and sometimes a referral fee. These fees are a percentage of your loan amount, but the percentages vary depending on your loan and lender.
These fees can add up quickly. After all, even a 2% loan guarantee fee on a $500,000 loan adds another $10,000 to your loan costs. So keep these fees in mind as you estimate your SBA loan costs.
Which brings us to our second point—the calculator provides only an estimate of your loan costs. Before you accept a loan offer, you should ask your lender for hard numbers that provide exact costs―including your monthly payment and total payback amount.
So what exactly determines your total SBA loan costs? Well, there are a few different factors. And as you can probably guess, they have a lot to do with the info you put in the calculator.
The more you borrow, the more you have to pay back. That much is obvious. Just keep in mind that larger loan amounts will cost you more because percentage-based costs (like interest and many fees) will be higher. Think of it this way: 5% of $10,000 is $500, and 5% of $50,000 is $2,500.
So if you get a big loan, you won't just be repaying the principal―you'll pay more in interest and fees.
That said, you should borrow the amount you need. If you need a large loan for your specific working capital needs, then go with the larger loan (as long as you understand the costs). But if you can get away with a smaller loan, it might make financial sense to take the smaller loan.
The effect of interest rates on cost also seems obvious. A higher interest rate means you pay more in interest.
Fortunately, SBA loans have some of the most competitive interest rates out there. Due to program rules, SBA loan rates can only go so high. The SBA sets very specific interest ranges. We won't bore you with the exact math, but these rates are based on three factors:
US Prime Rate
Loan term length
Loan amount
Your interest rate will depend on those factors and the type of SBA loan you get. Of course, your personal credit rating can also affect your rate. But with the SBA's specified rates, you can feel confident you're getting a good deal.
Interest vs. APR
Despite common misconceptions, interest and APR (annual percentage rate) aren't the same thing. APR includes both interest rates and fees. Our guide to APR explains more.
As with your interest rate, your loan term will depend on your SBA loan type. For example, SBA Express loans have terms between 5 and 25 years, while SBA 504 loans have repayment terms between 10 and 20 years.
As we just told you, your loan term length will affect the SBA rate you get. But that's not the only way your term affects your total loan cost.
A longer term means you'll be paying interest longer. To see this in action, consider a $100,000 loan with a 5% interest rate. If you have a one-year term, you'll pay $2,728.97 in interest. But bump that term up to five years, and you'll pay $13,227.34 in interest.
That's not to say that long repayment terms are bad. Longer loan terms give you lower monthly payments. For example, on that same $100,000 loan, a one-year term would have a monthly payment of $8,560.75, while a five-year term would have a monthly payment of $1,887.13.
Effect of term length on a $100,000 loan
| | | | |
| --- | --- | --- | --- |
| Term length | Interest rate | Total interest | Monthly payment |
| 1 yr. | 5% | $2,728.97 | $8,560.75 |
| 5 yrs. | 5% | $13,227.34 | $1,887.13 |
| 10 yrs. | 5% | $27,278.44 | $1,060.66 |
| 15 yrs. | 5% | $42,342.29 | $790.80 |
| 20 yrs. | 5% | $58,388.64 | $659.96 |
You shouldn't necessarily plan on early repayment to save money either. SBA loans have prepayment penalties, or fees for early repayment.
The final piece of your loan-cost puzzle is the fees. As we mentioned above, SBA loans can come with various fees, like these:
Packaging fees
SBA guarantee fees
Referral fees
Other bank closing costs
Again, these will often be a percentage of your loan principal. The SBA also has acceptable ranges for these percentages depending on loan type.
No-fee SBA loans
Some types of SBA loans don't have any fees. SBA disaster loans may have lender fees, but they don't have any SBA fees.
SBA term loans are one of our favorite business financing options. But as with all business borrowing, you need to borrow carefully, making sure you fully understand all the associated costs. We hope our SBA small-business loan calculator helps you do just that.
Happy calculating!
We like all kinds of SBA loans, but SBA 7(a) loans are some of our favorites. Learn why in our guide to SBA 7(a) loans.
Want more options? Fund your business with a personal loan
To get an SBA loan, you'll apply with an SBA-approved lender―not the SBA itself. (Confusing, we know.) Many lenders participate in the SBA loan program, but we recommend the SmartBiz lending marketplace. It helps expedite the loan application process and lets you compare SBA loan offers.
As with pretty much any financing, you'll have to meet certain business loan requirements to apply for an SBA loan. The exact borrower requirements will depend on the type of SBA term loan you want.
For SBA 7(a) loans, one of the most popular types of SBA loans, you'll need to meet these basic criteria:
680 or higher personal credit score
Two years of business operations
Enough revenue to cover your loan
As you can see, SBA loans aren't the easier loans to qualify for. If you don't qualify yet, our rankings of the best small-business loans have some other good options.
When you get an SBA loan, your loan amount will be partially determined by the type of SBA loan you choose. For example, SBA 504 loans have the highest loan maximums ($20 million) while SBA Microloans are much smaller ($50,000 max.). One of the most popular types, SBA 7(a) loans, max out at $5 million.
Your loan maximum will also be determined by your business revenue and your ability to repay the loan.
(And as a reminder, you're not really borrowing from the SBA―it's just guaranteeing the loan you get from a lender.)
Closing costs for SBA loans can vary widely depending on your loan type, amount, and use―enough that it's hard to give an average cost.
At minimum, expect to pay a guarantee fee and a packing fee. You may also have to pay typical loan closing fees, such as recording fees, title fees, and attorney fees.
And of course, your lender should give you a breakdown of expected closing costs before you finalize your SBA loan.
Disclaimer
At Business.org, our research is meant to offer general product and service recommendations. We don't guarantee that our suggestions will work best for each individual or business, so consider your unique needs when choosing products and services.