Free Bonus Tax Pay Calculator (Percentage Method)
Use this bonus calculator to withhold the right amount of state and federal taxes from employee bonuses.
Just about everyone welcomes extra cash for a job well done, so if you can treat your employees to bonuses to express your gratitude, you probably do. But as an employer, you're responsible for withholding the right amount in taxes from your employees' paychecks—and the same thing is true of their bonuses.
Not sure what that tax rate is? A bonus paycheck tax calculator can help you find the right withholding amount for both federal and state taxes.
Percentage method vs. aggregate method
There are two ways to calculate taxes on bonuses: the percentage method and the aggregate method. The calculator on this page uses the percentage method, which calculates tax withholding based on the IRS's flat 22% tax rate on bonuses. The aggregate method is more complicated and requires you to check out the tax rates listed on IRS Publication 15.
How to use the bonus tax calculator
To calculate the right amount to pay your employee, enter the following pieces of information:
Your employee's gross pay (how much they've been paid all year to the date of the most recent pay period)
The entire employee bonus amount
The amount of additional deductions made from the employee's regular wages (for instance, charitable or 401(k) contributions)
You also need to choose your state from the drop-down menu to generate the right amount of state income tax withholding for your area.
You'll check a box on the calculator if your employee is exempt from the federal income tax, state income tax, Medicare tax, and Social Security tax. (The Medicare and Social Security tax are collectively known as FICA taxes.)
Most employees do not qualify for these exemptions. If your employees don't qualify for tax exemptions on their regular pay, they don't qualify for tax exemptions on their supplemental income either.
Consider using payroll software
Payroll software can take care of the hard work of calculating taxes. Depending on the software, it can also deposit employee paychecks and help ensure you file taxes correctly at the end of the year. Want to get started? Answer a few questions and we'll help you find the right payroll tool for your business.
Best Small Business Payroll Software
Deducting and remitting the right amount of taxes from your employees' bonuses saves everyone from tax-day hassles down the road—which ensures bonuses feel like perks, not a prelude to end-of-year tax stress. A bonus tax calculator (or payroll software that calculates and remits payroll tax automatically) can help.
Want help calculating taxes on your employees' regular hourly pay, not just bonus pay? Check out this free hourly paycheck calculator.
Disclaimer
At Business.org, our research is meant to offer general product and service recommendations. We don't guarantee that our suggestions will work best for each individual or business, so consider your unique needs when choosing products and services.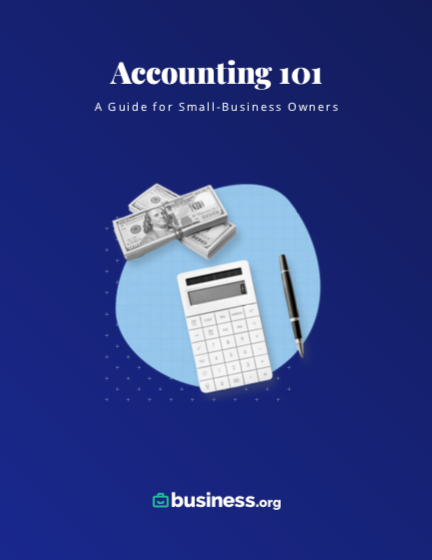 Get business accounting right the first time
Learn all about business accounting with our free ultimate guide.
Supplemental wages are any wages you pay employees beyond typical salaried or hourly pay. Bonuses, including holiday bonuses, are one of the most common types of supplemental wages, but the IRS classifies several other payments as supplemental wages too. For instance, sales commissions, sick leave, severance pay, financial awards or prizes, overtime, and tips all count as supplemental wages.
If you pay your employee their supplemental wages as a separate payment from their typical wages, you'll calculate the tax withholding amounts on the supplemental pay differently—and that's what the calculator on this page is for.
In the 2022 tax year, the federal flat tax rate for bonuses is 22%. On top of that 22%, you'll need to deduct the typical Social Security and Medicare taxes (FICA taxes). And the state tax rate for employee bonuses varies across the country, so make sure to select your state from the calculator's drop-down menu to calculate state tax withholding correctly.
Bonuses or other supplemental wages that total $1 million or more are subject to a higher flat tax rate of 37%. This tax rate applies whether the amount is given as a one-time bonus or accumulated during the year.
Compare the best payroll software costs and features
| | | | | | | |
| --- | --- | --- | --- | --- | --- | --- |
| Provider | Starting monthly base price | Monthly fee per employee | Free year-end tax filing | Health benefits administration | Free trial | Get started |
| | $40.00 | $6.00 | Yes | Yes | Free demo | See Plans |
| | $19.99 | $4.00 | Yes | Yes | 2 mos. | See Plans |
| | $79.00 | $4.00 | Additional fee | Yes | 3 mos. | See Plans |
| | $39.00 | $5.00 | Additional fee | Yes | 2 mos. | See Plans |
| | $40.00 | $6.00 | Yes | Yes | 1 mo. | See Plans |
Data as of 11/29/22. Offers and availability may vary by location and are subject to change.