Bluevine Business Checking Review 2023
We've spent hours researching Bluevine and comparing it to other online and traditional banks. Here's why this online bank still excites us.
Data as of 2/23/23. Offers and availability may vary by location and are subject to change.
Since 2013, Bluevine has made a name for itself in the business financing world. And in 2020, it branched out to offer business bank accounts. But are those checking accounts any good?
Well, we think so. In fact, it's one of our favorite checking accounts for business. With virtually no fees, a super competitive interest rate, and nationwide availability, Bluevine checking has a lot going for it. Still, it's not right for everyone, as Bluevine has no branch locations and just one bank account option.
In this Bluevine review, we'll explain how Bluevine's checking account works, what we like about it, and why it might be the right bank for your small business. We'll also point out some reasons Bluevine might not work for you and point you to some alternatives instead.
Let's talk Bluevine business banking.
Bluevine has the best business checking account (for online banking)
We'll put this simply: Bluevine offers our favorite checking account for business. That's because―despite being a new player in the business banking world―Bluevine offers tons of value.
Bluevine business checking accounts don't charge any fees, like monthly maintenance fees or transaction fees, so it will work with any business's budget. You can earn interest on your Bluevine account balance, making it a good way to do more with your money.
And unlike some online banks for small business, Bluevine lets you deposit cash and use checks. So you get all the essential features you'd want from a checking account―for free.
Plus, since Bluevine is an online bank, it's available in all 50 states.
Interest-bearing checking
No-fee checking accounts
Availability in 50 states
One checking account option only
No branch locations
No interest on balances over $250,000
Bluevine Review Table of Contents
Bluevine Bank Account Options and Pricing
Like we said, Bluevine has just one type of business checking account. You won't find any business savings accounts or specialized checking accounts.
Fortunately, that one checking account is quite nice.
Bluevine offers fee-free checking. That means you don't pay a monthly maintenance fee to keep your account open and active. You don't have to pay transaction fees on payments and transfers. And you don't have to worry about ATM fees when using in-network ATMs. It's all free.
Now, Bluevine doesn't charge any fees for day-to-day use, but there are a couple fees you should know about. If you lose your Bluevine debit card, you'll have to pay a small replacement fee. If you make an outgoing wire transfer, you'll have a $15 wire fee.
Bluevine Business Checking Account
| | |
| --- | --- |
| Feature | Bluevine business checking |
| Min. opening deposit | $0.00 |
| Monthly fee | $0.00 |
| Monthly fee waivabile? | N/A |
| APY | 2.0% on balances up to $250,000 |
| ATM fees | $0.00 for in-network ATMs |
| Transaction fees | $0.00 |
| Deposit fees | $4.95 (at Green Dot locations) |
| Get started | Open an Account |
Data as of 2/23/23. Offers and availability may vary by location and are subject to change.
Then there are cash deposit fees. Since Bluevine doesn't have any branch locations, you'll have to visit a Green Dot retail location (which you'll find in stores like Walmart, CVS, Walgreens, and more) to deposit cash into your Bluevine checking account.
When you do, you'll pay a $4.95 deposit fee. (So cash-heavy businesses might prefer to stick to a bank with local branches.)
Even with those fees, Bluevine offers some of the cheapest business checking out there. And like we mentioned above, it gives you more perks than other free business checking accounts do.
Debit card
Do a lot of spending from your business account? Your Bluevine checking account comes with a MasterCard debit card. You can use your debit MasterCard anywhere that accepts MasterCard.
For example, Bluevine lets you deposit cash (through Green Dot locations). Many online banks for small business simply don't accept cash deposits. And the banks that do allow for cash deposits require you to either mail in your cash or find a specific type of ATM. Green Dot locations are much easier to find, making it simpler for you to deposit money with Bluevine.
Bluevine also lets you write checks from your accounts (and even gives you free checkbooks), while some competitors simply don't allow for checks.
Our favorite perk, though, has to be the interest you earn.
Bluevine Banking Features
The moment you deposit money into your Bluevine checking account, you'll start earning interest on that balance. And you'll keep earning interest on balances up to $250,000.
Interest-bearing checking accounts are still relatively rare in the business banking world (probably because they weren't even legal until a few years ago). But even among the interest-bearing business accounts out there, Bluevine has the best.
Part of that is the amount of interest. Bluevine offers a 2.0% interest rate on your account balance. Kabbage offers 1.1% APY (annual percentage yield) on its free checking account. But Bluevine has a very, very competitive rate, and we think it offers a better account overall thanks to things like the free checkbooks and better customer reviews. Plus, the rate applies to up to five sub-accounts. 
Note, though, that you can only earn interest on Bluevine account balances up to $250,000. So if you plan to keep hundreds of thousands in your bank account, Bluevine might not be the best bank to maximize your earnings. But for any business owner with a balance of less than $250,000? Bluevine lets you earn a great rate with a great account.
In other words, Bluevine offers one of the best free business checking accounts and one of the best interest-bearing checking accounts. See why it's our favorite source for business checking?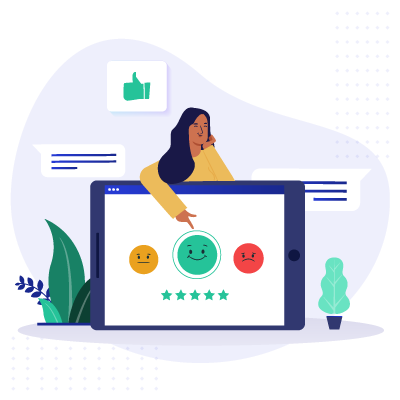 Expert Advice, Straight to Your Inbox
Gain confidence in your business future with our weekly simple solutions newsletter.
Bluevine vs. Competitor Banks
While we do like Bluevine, it's worth seeing how it compares to your other business banking options. In the table below, we show you how Bluevine stacks up against popular traditional and online business banks.
Data as of 2/23/23. Offers and availability may vary by location and are subject to change.
As you can see, Bluevine offers cheaper checking than traditional banks (like Bank of America and U.S. Bank) as well as some online banks (like NorthOne). 
Plus, Bluevine earns interest on your account balance. Kabbage, another online bank, offers that perk too (as we discussed earlier). But Bluevine still stands out compared to most banks that don't offer any interest on your checking.
So with the low costs and the big earnings, Bluevine looks pretty good compared to the competition.
You can probably tell we like Bluevine a lot. We still want to be clear, though: Bluevine isn't right for everyone.
For example, if your business routinely handles lots of cash, you'll probably find that a brick-and-mortar financial institution (either a bank or a credit union) offers more convenient—and potentially cheaper—cash depositing than Bluevine does.
Likewise, if you need banking beyond just a checking account (like a savings account, merchant services, a business credit card, payroll services), you'll want to go with a feature-rich, probably brick-and-mortar, bank. Bluevine offers only checking accounts and business financing.
We'll also tell you that Bluevine has somewhat mixed customer reviews. They're mostly positive (it's got a 4.3 out of 5 on Trustpilot1 and a 2.09 out of 5 on the Better Business Bureau's site),2 but we did see some concerning stuff about account closures and freezes.
That said, Bluevine did just take some time off from accepting new customers to double-down on improving its product and customer service. So we hope to see fewer negative reviews moving forward. (We'll keep an eye out, though.)
On the whole, though, Bluevine doesn't have any big red flags. But it does have a few other products you might want to know about.
Other Small Business Products and Services from Bluevine
As we said earlier, Bluevine doesn't offer most of the products and services you'd find at other business banks. You won't find any merchant services or business credit cards, for example.
If you need working capital, though, Bluevine offers some great business loan choices.
Bluevine currently offers two types of business financing: invoice factoring and a line of credit. It has recently partnered with FundThrough for it's invoice financing, where all you need to sign up are certain business, government, and tax documents.
Each of these financing options offer competitive rates and loan amounts, especially for an online lender. In fact, Bluevine consistently ranks as one of our picks for the best small-business loans.
| | | | | |
| --- | --- | --- | --- | --- |
| Product | Loan min./max. | Lowest listed rate | Term | Get a loan |
| Invoice factoring | Up to $5 million | 0.5%/wk. | N/A | Apply on Lendio |
| Line of credit | $5,000/$250,000 | 6.2% interest | 6–12 mos. | Apply on Lendio |
Data as of 2/23/23. Offers and availability may vary by location and are subject to change.
Bluevine's invoice factoring has pretty low requirements, while the line of credit has higher criteria (a 600 credit score and 6 months in business). In either case, those loan requirements are much lower than you'd find at a traditional bank.
You can learn more about Bluevine's invoice financing and lines of credit―and whether they'll meet your financial needs―in our Bluevine loan review.
Don't qualify for a business loan due to bad credit? Get a personal loan instead.
Enter your loan needs and qualifications to get matched with a list of lenders best suited to you. Then, sort by the financing factor that you find most important. (Note: not all lenders allow personal loans for business use.)
While Bluevine business banking may not offer the most products and services out there, it has a top-notch business checking account that we'd recommend to just about any small-business owner.
With zero monthly fees (and few other fees) and a relatively high interest rate, there's plenty to like about Bluevine's checking. If you handle lots of cash, you might prefer a traditional bank. 
Otherwise, you'll have a hard time finding a better business checking account.
Think a brick-and-mortar bank might serve your business better? Check out the best bank for small business in your state.
Bluevine Business Banking FAQ
Yes, Bluevine is a legitimate and safe lender and bank for business. It's served almost half a million business customers. And like we pointed out earlier, it has an excellent Trustpilot rating based on more than 7,000 reviews. You're safe doing business with Bluevine.
Bluevine has been a popular option for business banking and financing. Unfortunately, in 2020, due to high demand and an increased focus on PPP loans, the company had paused new applications for its other products, but now they are back.
Bluevine currently doesn't offer any SBA-approved loans. It used to be a direct lender in the Paycheck Protection Program, but this program has ended. 
The application review process takes between one to three business days.
You can reach Bluevine customer service at (888) 216-9619. Just make sure you call on a weekday between 8 a.m. and 8 p.m. ET.
Yes, some brick-and-mortar banks offer free business checking, much like Bluevine. You can see some of our favorites―like Citizens, Huntington Bank, and US Bank―on our list of the best free business checking accounts. 
After digging deep into Bluevine's bank account, we graded it on factors like its account fees, customer service, customer reviews, and more. We used those grades to calculate an overall score for Bluevine's banking services and to see how it compared to other banks for business (both traditional and online ones).
Disclaimer
At Business.org, our research is meant to offer general product and service recommendations. We don't guarantee that our suggestions will work best for each individual or business, so consider your unique needs when choosing products and services.