The 3 Best Free Accounting Software of 2023
We evaluated the best free bookkeeping software by user friendliness, accounting features, customer service, and more.
The bottom line: Zoho Invoice is our favorite free accounting software. Even though it's technically an invoicing product, Zoho Invoice lets you scan receipts, track expenses, generate reports, accept payments—all tasks that most accounting software programs charge you for. 
Plus, Zoho's full-fledged accounting software, Zoho Books, has a free plan for businesses that earn less than $50K USD per year. Coupled with Zoho Invoice, Zoho Books is a well-rounded and completely free solution for freelancers on a budget.
But if Zoho isn't the right fit for you, there are other free bookkeeping software picks for you, like Wave, that offer a great option as well. We review the best free bookkeeping apps and software choices below.
Data as of 5/11/23. Offers and availability may vary by location and are subject to change.
*Current offer: 50% off for 3 mos. Available for new customers only
Best free accounting software 2023
:

Best overall

:

Best for freelancers

:

Best for Square POS users
Best free accounting software for small business
| | | | | | |
| --- | --- | --- | --- | --- | --- |
| Software brand | Pricing | Unlimited invoicing | Receipt scanning | Payment acceptance | Get started |
| | Free for life | Yes* | Yes | Yes | See Plans |
| | Free for life | Yes | No | Yes | See Plans |
| | Free for life | Yes | Yes | Yes | See Plans |
Data as of 5/11/23. Offers and availability may vary by location and are subject to change.
*Invoices are free up to 1,000 invoices/yr.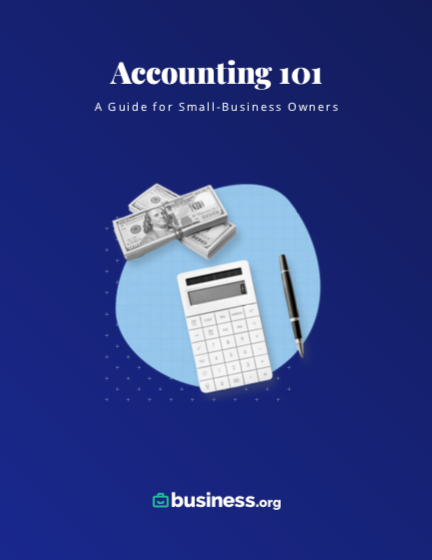 Get business accounting right the first time
Learn all about business accounting with our free ultimate guide.
Zoho Invoice: Best overall free accounting software
Data as of 5/11/23. Offers and availability may vary by location and are subject to change.
Don't be fooled by Zoho Invoice's name. This software does much more than send invoices (though you shouldn't overlook its stellar invoicing features—Zoho Invoice is actually our top pick for billing and invoicing software).
While it's not quite as fully featured as Zoho Books, Zoho's accounting-specific product, Zoho Invoice has more than enough features to recommend it—and, obviously, they're entirely free: 
Professional, customizable invoices with multi-currency and multi-language support
Automatic recurring invoicing and customer payment reminders
Estimates (easily convertible to invoices)
Expense tracking, receipt scanning, and time tracking
Thanks to its its built-in time tracking (which syncs easily with invoices), estimate-to-invoice conversion, and client portal for straightforward collaboration, Zoho Invoice is ideal for freelancers who frequently collaborate with customers.
With a stellar (and again, free) bookkeeping and invoicing app, it's also good for freelancers on the go.
If you want more extensive accounting features, Zoho Books has a free plan for businesses with under $50K USD in annual revenue. If that describes your business, we highly recommend adding Zoho Books to your Zoho Invoice plan.
Otherwise, pricing for Zoho Books starts at $15 a month, which makes it a solid alternative to much pricier accounting solutions like QuickBooks Online. But if you're fine with basic invoicing and transactions, it's honestly hard to beat Zoho Invoice.
Wave Accounting: Best bookkeeping for freelancers
Data as of 5/11/23. Offers and availability may vary by location and are subject to change.
Even if Wave weren't completely free, we'd still be blown away by how much it offers. It's one of our top accounting software picks for small-business owners, and for good reason. With Wave, you get perks like these:
Automatic bank account and credit card syncing for accurate, up-to-date financial records
Unlimited bank account and credit card connections
Easy, customizable income and expense tracking
Crucial accounting reports and general ledger
Invoicing and billing reminders
Automatically generated journal entries
Customer support (email only)
Wave's easy-to-read dashboard shows you your most important financial info at a glance. Its billing, invoicing, and expense tracking features make it perfect for freelancers, but the software can work for larger businesses too, especially since Wave doesn't limit the amount of users you can add (unlike competitors like QuickBooks Online). You and the rest of your financial team can jump on your account to check numbers and enter information, free of charge.
Square Invoices: Best for Square POS users
Data as of 5/11/23. Offers and availability may vary by location and are subject to change.
Square's specialty lives within the realm of Square's other products. It integrates amazingly with Square POS, making it easy to keep track of business payments in a unified place while allowing for automatic invoice generation upon in-person transaction. Square Invoices offers just a few basic accounting features for free: 
An unlimited number of users can send out invoices
Send invoices and digital receipts through email or text
Schedule recurring invoices and automatic payment reminders.
Reporting and cash flow management tools.
Sign with an e-signature
Square payments integration
We know, we know — that doesn't look like much, especially when compared to Wave and Zoho Invoice. But what few things Square Invoice does, it does quite well.
Its interface is straightforward and user-friendly, which is crucial for first-time business owners with limited financial knowledge. If you like Square's user-friendly interface but want more features, its paid plans start at $20 and offer things like greater customization (for invoices), project organization, and the ability to send batch invoices.
Haven't found the right free solution? Maybe it's QuickBooks.
Data as of 5/11/23. Offers and availability may vary by location and are subject to change.
*30-day free trial or 50% off for three months. Price increases to $30.00/mo. after promotional period.
QuickBooks is easily one of the most popular financial, tax, and accounting software options in the world. And while QuickBooks Desktop (especially the fairly comprehensive, comparatively affordable QuickBooks Pro Plus) is still an option for those who prefer desktops, QuickBooks Online is Intuit's cloud-accounting software solution.
The basic Intuit QuickBooks Online plan includes typical features like invoicing, billing, and receipt scanning along with more comprehensive tracking than many competitors:
Mileage tracking
Sales tax tracking
Automatic tax deduction categorization
1099 contractor payment tracking
Thorough reporting, including accounts receivable
QuickBooks also has the absolute best mobile accounting app you can find. The app can do basically everything the software can (a rarity for any software provider, no matter the industry). If you work on the go, QuickBooks's app, which includes mobile mileage tracking, might make it a good fit.
Intuit QuickBooks's online reporting and tracking features come at a price, though: its cheapest small-business plan starts at $30 a month and restricts you to one user plus an accountant. The priciest plan, which includes 25 users, starts at $200 a month.
At $15 a month, QuickBooks Self-Employed is a cheaper financial management option. However, QuickBooks Self-Employed targets freelancers with just a few clients and limited expenses. Instead, it's primarily an invoicing, mileage-tracking, and tax-tracking plan. That means it helps sole proprietors who file Schedule C forms maximize their tax returns, but it's not a fully featured bookkeeping or accounting app for other business owners.
Extremely comprehensive accounting features
Excellent tax categorization
A+ mobile app
Above-average starting price
Users limited by plan
Poor customer service reputation
Still not sure which accounting software is best for you?
If you're having trouble narrowing down your free bookkeeping options, enter some basic information about your business's accounting needs. We'll get back to you with a list of up to five accounting providers we think work best for you.
If you want a free small-business accounting solution with nearly as many features as the best paid software, we recommend Zoho Invoice. Zoho Invoice's automatic invoicing, simple customer portal, and multi-currency support are just right for freelancers who want basic accounting with stand-out customer collaboration tools.
But if Zoho Invoice isn't your thing, a few other options could work even better:
Wave Accounting has unlimited features that even most paid software can't match, including unlimited invoices, users, bank account transactions, and businesses. 
Square Invoices also offers unlimited invoices on its user-friendly platform. It's perfect for those who don't have accounting software and a great option for Square POS users.
Want affordable payroll to match your free cloud-based accounting solution? Check out our piece on the best free payroll software for small-business owners.
Free accounting software FAQ
The simplest bookkeeping software to use is Zoho Invoice, an extremely user-friendly invoice, billing, and completely free online bookkeeping software. 
Used in conjunction with Zoho Books—especially its free plan, which you can access if your business makes under $50K USD in revenue per year—Zoho Invoice is a sleek, streamlined bookkeeping option for freelancers and other small-business owners.
If you're looking instead for the most basic free bookkeeping software for small business, we like Wave and Square Invoice. These are two of the simplest, easiest to use, and best accounting software for small business, especially freelancers who don't need the bells and whistles of thorough (and more expensive) accounting software.
Intuit QuickBooks is one of the most commonly used accounting software in the world. It's been around since the 1980s, which puts it ahead of the curve. (The other options on our list are relatively new—Intuit QuickBooks had the advantage of establishing a successful desktop accounting program before the internet was more widely accessible.)
However, because QuickBooks is both popular and fully featured, it has a much higher starting price than nearly any other accounting software we recommend. If you're looking for a QuickBooks-esque solution at a lower price point, we recommend Zoho Invoice (for a free option).
Wave, Zoho Invoice, and Square Invoice are particularly solid alternatives to QuickBooks. Of all the free software reviewed here, these three match many of QuickBooks' selling points, like sales tax tracking, financial reports, integrations with other cloud accounting software, and charts of accounts.
The best free accounting software for your small business honestly depends on your business's industry, aims, and size. If you freelance, work for yourself, or have just a few employees, free accounting software like Wave's can help you track your finances, make wise financial decisions, and feel prepared for tax season. But if you have 10 or more employees and want help with heavy financial lifting, paid accounting software like Zoho Books (starting at $15 a month) could be a better fit for your midsize business.
We analyzed each software brand's value based on the number of features offered for free, customer service, business reputation, scalability, paid options, and user-friendliness, among other factors.
Disclaimer
At Business.org, our research is meant to offer general product and service recommendations. We don't guarantee that our suggestions will work best for each individual or business, so consider your unique needs when choosing products and services.