The 4 Best Expense Tracker Apps for Small Businesses in 2023
Track expenses, scan receipts, and reimburse employees with a business expense tracking solution.
Data as of 8/17/22. Offers and availability may vary by location and are subject to change.
*Current sales price: 90% for three mos. or 30-day free trial. Offer available for new customers only,
**When billed annually
Our top business expense tracker app is FreshBooks. Its well-reviewed accounting software app lets you track expenses, upload receipts, and sync payments. Its scalable plans make it s a good fit for many types of business owners.
But FreshBooks is just one of  the best business expense tracker apps. Below, we review FreshBooks, Expensify, and more apps for small businesses like yours.
Best expense trackers 2023
:

Best total accounting solution

:

Best automation
Top feature comparison: Best small-business expense trackers
Data as of 1/12/23. Offers and availability may vary by location and are subject to change.
*Current sales price: 90% off for three mos. or 30-day free trial. Offer available for new customers only.
**When billed annually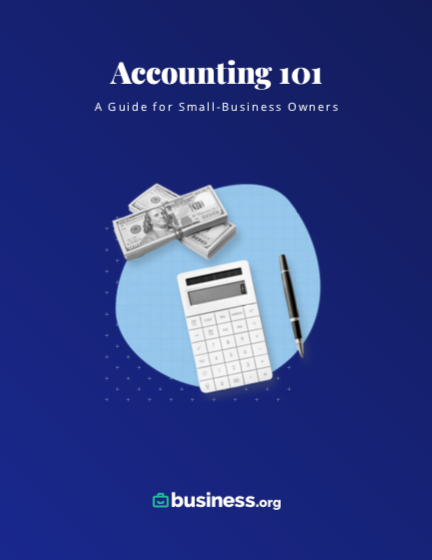 Get business accounting right the first time
Learn all about business accounting with our free ultimate guide.
FreshBooks: Best total accounting solution
Data as of 1/12/23. Offers and availability may vary by location and are subject to change.
*Current sales price: 90% off for three mos. or 30-day free trial. Offer available for new customers only.
FreshBooks's accounting software includes built-in expense tracking, so you don't need to invest in two apps to manage your business's costs. Instead, FreshBooks syncs with your bank account and credit cards, automatically importing and categorizing expenses, plus generating reports that help you make sense of your profit and loss.
And if you frequently bill your clients for expenses, FreshBooks's excellent invoicing simplifies the process. Use FreshBooks's app to track your time, expenses, and mileage during a project, then transfer over the final billable expense to your client's invoice (which you can also create and send with the FreshBooks app).
FreshBooks doesn't offer a free plan, but the company frequently offers frequent long-term sales. You can also save by paying for FreshBooks annually instead of monthly. Unfortunately, the cheapest plan limits you to invoicing just five clients a month. Freelancers with a higher client volume will need at least the $25-a-month Plus plan, which increases your client limit to 50 a month.
Zoho Expense: Best automation
Data as of 1/12/23. Offers and availability may vary by location and are subject to change.
Zoho Expense focuses on employee travel. (It's billed as an "end-to-end travel and expense" solution, not simply an expense tracker.) Along with the typical expense tracker features, Zoho Expense lets you book rooms, set travel budgets, and pre-approve travel expenses well before employees leave. Like Zoho's accounting software, Zoho Books, Zoho Expense automates just about everything that can be automated, including employee expense approval and reimbursement.
Zoho Expense's free plan includes up to 1 user (plus an accountant) who can collaborate on expense tracking and travel management. For 10 users and pre-travel approval, you'll need the Premium plan, which costs $2.50 per user per month if you pay annually (paying monthly costs $3 per user per month). The Premium plan also requires you to have at least ten users—which ups the cost to $30 per per month, paid annually.
Zoho Expense syncs with Zoho Books, Xero, and QuickBooks Online, but accounting software costs an additional $12 to $30 a month on top of your Zoho Expense payment.
Wave Accounting: Runner-up
Data as of 1/12/23. Offers and availability may vary by location and are subject to change.
Wave Accounting is a truly free accounting software solution with fewer limits than many paid plans. As one of the best free expense tracker apps, Wave lets you track unlimited expenses and scan an unlimited number of receipts—while paying nothing, ever. 
Unlike paid competitors like FreshBooks and QuickBooks Online, Wave Accounting doesn't have an accounting-specific mobile app (though it does have separate receipt, invoice, and payment acceptance apps). And while it's great for freelancers, Wave doesn't have any employee reimbursement or corporate card features.
QuickBooks Self-Employed: Runner-Up
Data as of 1/12/23. Offers and availability may vary by location and are subject to change.
For help with all things tax-related, try QuickBooks Self-Employed. As an Intuit product, QuickBooks Self-Employed syncs seamlessly with Intuit TurboTax, which makes claiming the right tax write-offs easier at the end of the year. Like the heftier QuickBooks Online, QuickBooks Self-Employed is incredibly intuitive—it's hard to find a more user-friendly mobile app.
Since QuickBooks Self-Employed was built for contractors and freelancers, it doesn't include any employee-based spending tracker features. And at $15 a month, QuickBooks Self-Employed offers fewer invoicing and expense-tracking features than FreshBooks, which costs the same per month.
Business expense trackers are a solid investment for freelancers, solopreneurs, and other small-business owners who want to analyze costs and submit correct write-offs at tax time.
For flexibility and affordability, the best expense tracker app is Expensify. If you want accounting software with built-in expense tracking, try FreshBooks, QuickBooks Self-Employed, or Wave Accounting. For traveling and driver-focused alternatives, we like Zoho Expense and Everlance. And if physical receipts are taking over your office, Shoeboxed can start digitizing your data and categorizing your expenses right away.
Most business expense trackers have free plans, free trials, or both. Feel free to try different providers on for size before you commit—you'll want an app that syncs with your accounting software, works for both you and your employees, and organizes expenses in a format you can follow.
Want to expand your business by trimming expenses? Check out our article on bookkeeping basics to learn more about income and expense management.
What are business expense trackers?
Business expense trackers obviously track your business's expenses—but the best expense trackers don't stop there. They also (usually automatically) categorize your expenses so you can identify areas to cut costs and simplify tax write-offs at the end of the tax year. Top business expense trackers should also include receipt scanning software so you can upload expenses on the go. Finally, expense tracking apps need to sync with your accounting software to save time and eliminate redundant data entry. (Some accounting software, like QuickBooks, includes built-in expense tracking and receipt scanning).
While self-employed business owners technically can use personal budgeting apps to track expenses, we don't recommend it. They aren't comprehensive enough to track a business's needs, and they lack a lot of features most business expense trackers include. (For instance, personal finance apps don't automatically track mileage—a must if you're a freelancer with mileage-based tax write-offs or an employer whose employees travel for work.)
If you're interested in becoming a better personal budgeter, check out our reviews of the year's best budgeting apps. But personal finance apps like Mint and YNAB work only when applied to your personal life, not your business life.
Business expense tracking FAQ
Expensify is one of the best spending tracker apps for small businesses. It's also super accessible: Expensify syncs with just about every accounting software system, including QuickBooks Online and Xero.
Remember, though, that Expensify might be the best business expense tracker app for some businesses—but not necessarily all businesses. Many accounting software solutions (QuickBooks included) have built-in expense tracking options that scale up as your business grows.
Not sure Expensify is the right expense tracking software for you? Most money tracking apps for businesses offer free basic plans or free trials. Expense tracking is essential to good business budgeting, so feel free to try out different options until you find one you prefer.
Most expense tracker apps offer free basic plans. For instance, Expensify is free for freelancers who upload only 25 expenses a month. Free accounting software, like Wave Accounting and ZipBooks, also includes expense tracking with their free plans.
But if you want to use a company card, reimburse employees for business expenses, and get in-depth expense reporting for tax time, even the best free expense tracker app won't cut it. Still, you have affordable options. Expensify's small-business plans start at $4.95 a month. And accounting software like FreshBooks can cost as little as $15 a month (or less if you lock in FreshBooks's frequent deals, like saving 60% for 6 months).
What is the best way to track expenses if I'm self-employed?
Whether you're a part-time freelancer or a small-business owner with one or two employees, expense tracker apps are the easiest, fastest way to track business expenses.
You can always use spreadsheet software to track expenses by hand: for instance, Microsoft Excel offers expense tracking templates. (If you want a truly free option, Google Sheets is easy to customize to your business's budgeting needs.) But even if you log just a few business expenses a month, we recommend an expense tracker app over spreadsheets.
Why? For one thing, expense tracking apps usually automate expense tracking, which gives you more time to focus on your business. They also let you track mileage, which is important for tax write-offs at the end of the year, and scan or upload receipts to ensure all your expense data is in one place. Many also double as bill management apps, especially accounting software with built-in expense and billing solutions.
Budget tracker apps like Mint and YNAB are excellent for getting your personal finances in line, which can make you a more financially savvy business owner. But we don't recommend using personal finance or budgeting apps for tracking business expenses, even if you're self-employed. For one thing, it's too easy to accidentally label personal expenses as business expenses (or vice versa), which makes taxes harder instead of simpler. Feel free to use both types of apps, but as soon as you become self-employed, make sure to separate your business and personal finances ASAP. 
To find and rank the best expense trackers for small businesses, we analyzed several key business budget and spending features:
Expense tracking features, including recurring expense categorization, billable hours and expense tracking, types of tax categories, and receipt capturing
Ease of use, including customizability, automatic expense tracking, and automatic accounting software integration
Mobile app ratings and reviews on both Google Play and Apple's App Store
Travel-based features, including mileage tracking, travel planning, and GPS tracking
Employee-facing features, including employee reimbursement and budget approval
User limits
Pricing and affordability
Disclaimer
At Business.org, our research is meant to offer general product and service recommendations. We don't guarantee that our suggestions will work best for each individual or business, so consider your unique needs when choosing products and services.