The Best Inventory Apps of 2023
Choosing a good mobile inventory tracker makes it easier to manage your products on the go. We've narrowed it down to the top five apps on the market.
Data as of 3/15/23. Offers and availability may vary by location and are subject to change.
Here's the bottom line: Sortly has the most features at the most reasonable price—that's why it's our top pick.
Inventory management software is an essential tool for running your business. But not all companies do business from a single location. Warehouse managers, sales representatives, and owners of mobile businesses need a way to manage inventory while on the go.
If your business falls into one of these categories, getting an inventory system with a user-friendly mobile app makes a lot of sense. With a richly featured mobile app for inventory tracking, you can scan incoming and outgoing products, check stock levels, generate sales and purchase orders, and more—all from your smartphone. Plus, Sortly and inFlow Inventory, our top two choices, combine the flexibility of an app with the power of a full cloud-based inventory management system.
The only question is: Which mobile apps are best for inventory tracking? Here are our top five picks.
Mobile apps only
While many inventory management platforms offer apps for desktop and laptop computers, we want to clarify that this review will focus exclusively on the best inventory tracking apps for tablets and smartphones. That way, we can provide the best advice for business owners looking to manage their inventory on the go.
Best inventory apps
:

Best overall

:

Best full-service inventory software tie-in

:

Best for scaling

:

Best for Square users

:

Best for on-the-go sales
Top inventory apps at a glance
When analyzing the options for mobile inventory tracking solutions, we focused on the features we thought would be most helpful for employees who need inventory management on the go.
To that end, we primarily compared each app's barcode scanning, warehouse management, and sales functionality. We also considered a couple of more advanced inventory management features, like item kitting and reporting.
Here's how our top five apps stack up:
Top inventory tracker apps compared
| | | | | | | | |
| --- | --- | --- | --- | --- | --- | --- | --- |
| App | Starting Price | Built-in barcode scanning | Multiple warehouses | Sales, invoices, and receipts | Item kitting | Reporting features | Get App |
| | $0.00/mo. | Yes | Yes | No | No | Yes | View Plans |
| | $89.00/mo. | Yes | Yes | Yes | No | No | View Plans |
| | $0.00/mo. | Yes | Yes | Yes | Yes | Yes | View Plans |
| | $0.00/mo. | Yes | Yes | Yes | No | Yes | View Plans |
| | $0.00/mo. | Yes | Yes | Yes | Yes | No | View Plans |
Data as of 3/15/23. Offers and availability may vary by location and are subject to change.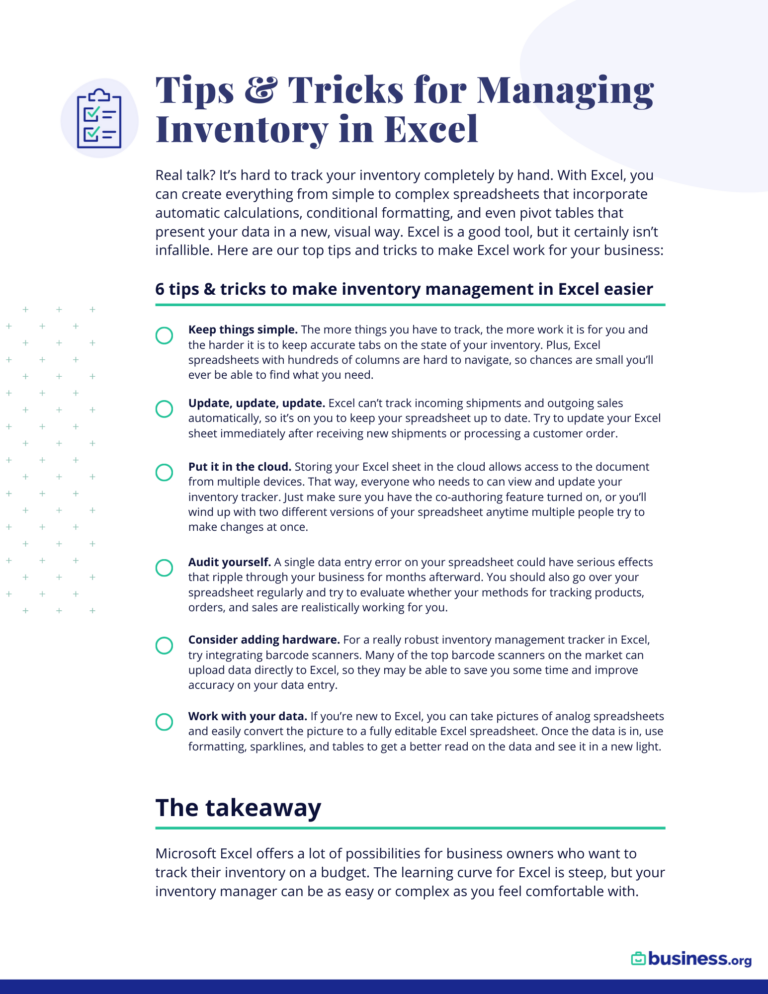 Get your free template
Keep your inventory organized, monitor shipments, and track vendor reliability with our customizable Excel inventory template and our included tips and tricks.
Sortly: Best overall inventory management app
Data as of 3/15/23. Offers and availability may vary by location and are subject to change.
All of the options on our list include the features most commonly used by inventory managers on the go. But Sortly goes a step further, offering features that no other apps have.
For starters, Sortly includes an offline mode, which allows you to scan incoming and outgoing items even when your smartphone can't find a signal. Once you come back online, all your offline activity syncs with your account for seamless inventory tracking company-wide.
We also like that Sortly doesn't just offer barcode scanning—it also supports QR codes. That gives your company more flexibility to choose the scanning method that works best for your business.
When you consider that Sortly is basically a full-featured inventory control system, it's plans are very reasonably priced:
Free ($0/mo.): Up to 100 transaction entries per month
Advanced ($29/mo. or $348/yr.): Up to 2,000 transaction entries per month
Ultra ($59/mo. or $708/yr.): Up to 10,000 transaction entries
Enterprise (Get a quote): Unlimited transaction entries
Considering all the features you get for under $120 per month, we think Sortly's a pretty great deal.
Easily upload existing inventory list
Organize inventory folders by type, location, and other categories
In-app barcode scanner
Backup function lacking features
Customer service sometimes slow to respond to email
inFlow Inventory: Best tie-in app for full-service inventory software
Data as of 3/15/23. Offers and availability may vary by location and are subject to change.
As much as we like the options we've included on this list, the fact is that mobile-only software is more limited in the features available. A mobile interface just isn't capable of offering all the features and customization you could enjoy on a desktop computer or laptop.
If you need an inventory management software with a little more oomph that can still offer easy-to-use mobile functions, we think inFlow Inventory may be the best pick for your business.
With inFlow Inventory, you get the desktop features of a complete inventory management platform—including team management, vendor and customer tracking, and order management. In addition, inFlow's mobile app allows you to use a built-in barcode reader to scan items, adjust stock levels, and create new sales orders and purchase orders from anywhere.
People often think that you can use the inFlow Inventory app completely free, but that's not 100% true. Yes, the app itself is free. And yes, inFlow does offer a free service option (inFlow On-Premise). But the free plan only includes local software, meaning you can't access it from your mobile device.
To use the inFlow Inventory app, you'll need to sign up for a paid subscription. inFlow offers three plans:
Entrepreneur ($89/mo.): 1 inventory location, up to 100 orders per month
Small Business ($219/mo.): Unlimited inventory locations, up to 1,000 orders per month
Mid-Size ($439/mo.): Unlimited orders per month
Fulfill orders from your phone
Track Inventory and orders across multiple warehouses
Live-chat, email, and phone support
Limits on number of sales per month depending on plan
No API integrations
Zoho Inventory: Best for scaling
Data as of 3/15/23. Offers and availability may vary by location and are subject to change.
Zoho Inventory is a robust inventory management system that can provide an excellent solution for businesses that are looking to scale. This is due to its vast array of features and customizable plan options.
The software offers features such as order and inventory management, purchase and sales order tracking, and real-time inventory tracking, which can help businesses to streamline their operations and improve their efficiency. With Zoho Inventory, businesses can manage their inventory across multiple warehouses, set reorder points, and track stock movement in real-time, allowing them to make informed decisions and optimize their inventory levels.
Zoho is also great for integrations. The software seamlessly integrates with other Zoho apps such as Zoho Books and Zoho CRM, as well as third-party apps like Shopify, Amazon, and eBay.
Zoho's inventory software is reasonably priced and has a free cloud-based option, as well as a free mobile app on every plan for accessibility. Zoho also allows for customizable plan options alongside it's four paid plans— with each plan growing in orders and shipping labels permitted per month. Although upgrading plans to achieve unlimited orders may be a drawback, it ensures that inventory costs do not outweigh profits. Plus, Zoho goes so far as to allow you to add-on additional users ($2.50) or warehouses ($8.00) to whichever plan you're on.
Highly customizable inventory system
Built-in barcoding support
Lots of integrations
Poor onboarding support
Glitchy third-party integrations
Square: Best for Square users
Data as of 3/15/23. Offers and availability may vary by location and are subject to change.
Square Inventory is an ideal inventory management solution for businesses that use Square's POS system. Since Square Inventory seamlessly integrates with Square's POS system, businesses can easily sync their sales data and inventory levels, allowing for real-time inventory tracking. This integration helps businesses to reduce errors in inventory management and avoid overselling, which can be a significant problem for businesses that operate with a small inventory.
Square Inventory offers features such as low-stock alerts, reorder reminders, and real-time inventory updates. But it doesn't have a ton of advanced features—there are no invoicing or manufacturing features and very limited warehousing features. The software's user-friendly interface and intuitive design, however, make it easy for businesses to set up and manage their inventory without requiring extensive training or technical expertise. 
So if you're a Square user and have a business that doesn't have a super complicated supply chain, Square can provide you with a simple inventory solution.
With Square, basic inventory management features are included for free with a Square account, but a Square POS system or free Square for Retail plan is necessary for the full range of inventory management tools. While the Square for Retail Plus plan is affordable at $60 per month, additional transaction fees for payment processing, along with any POS hardware costs, should be considered.
Comes with a free online store
Accessible and easy to use interface
Free with any Square account
Limited warehousing features
Zero invoicing features
Inventory Now: Best app for on-the-go sales
Data as of 3/15/23. Offers and availability may vary by location and are subject to change.
If you run a mobile business (like a food truck or pop-up store) or attend a lot of trade shows, Inventory Now may be the inventory app you need.
Inventory Now pairs with PayPal Here to essentially replace your business's point-of-sale (POS) system. This gives you the ability to generate sales orders as you make your sale, as well as process payment for the order and set the order fulfillment process into motion immediately—all from your Android or iOS mobile device. You can also use this feature to process customer payments without investing in an expensive POS register.
Inventory Now software also supports item kitting (allowing you to group items together for bundles) and built-in barcode scanning. You can even generate UPC and SKU numbers within the app for use in barcode generation.
If your business sells fewer than 20 inventory items, you can use Inventory Now for free. Otherwise, you'll have to upgrade to a paid plan. Inventory Now offers three plan options:
Personal ($7/mo. or $60/yr.): Unlimited items, access on up to 3 devices
Professional ($14/mo. or $144/yr.): Access on up to 10 devices, checkout with Square
Enterprise ($99+/mo., billed annually): Dedicated servers, custom features, phone support
Keep in mind that the Enterprise plan starts at $99 per month, but the exact price will depend on the custom features you need.
Detailed inventory lifecycle tracking
Add product to registry by scanning from your phone
Add subcategories and notes to inventory items
Poorly designed website
Limited features
Inventory apps like Sortly, Inventory Now, Zoho, and Square are effective platforms for managing your physical inventory—even when you're away from your warehouse. These options deliver easy, on-the-go sales features, built-in barcode readers, and many of the basic tools needed to track your inventory on the go.
inFlow Inventory is another promising app if your business needs more in-depth inventory management features. It syncs up with your inFlow account so you can still get order management and supply chain management features, in addition to many of the mobile features offered by the other apps on our list.
To find out more about desktop and laptop-based apps, check out our guide to the best inventory management software options.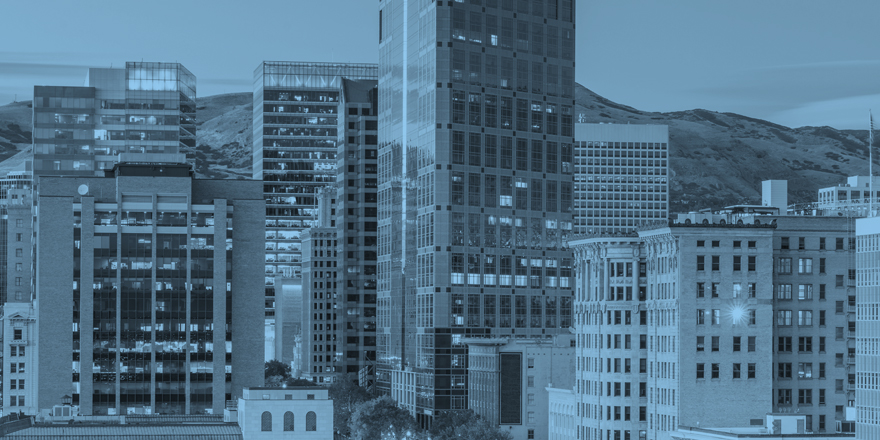 Ordoro offers everything you need to sell your products online or in person.
Get total control over your inventory
Align your business strategy with your stock management
Maintain vendor and customer relationships
Inventory tracking app FAQ
There are actually hundreds of apps to help you keep track of your inventory. Some (like the majority of the apps on our list) operate as mobile-based inventory trackers, meaning they don't sync up with other inventory management systems. Other apps act as a mobile extension to your inventory management system, complementing their parent software. Both options are effective ways to track and manage your inventory on the go.
How can I keep track of my inventory for free?
If you're looking for a mobile app that can help you track your inventory for free on your iOS or Android device, Sortly, Inventory Now, On Shelf, and Stock Control all offer a $0 per month starting price. The only trick is these platforms limit the number of items you can manage on a free plan.
Alternatively, you could try a free, desktop-based inventory control platform. Our favorite free inventory management software is inFlow On-Premise, but Zoho Inventory and PartKeepr are close contenders.
Another free option is to simply track your inventory manually using Google Sheets, Excel, or other software. These options may not be available on your mobile device, but they should work well nonetheless if your business has only basic inventory needs.
Managing inventory in Excel
Want to learn more about how to manage your inventory in an Excel spreadsheet? Check out our guide to Excel inventory management or download our free inventory management spreadsheet template to get started.
How is inventory tracked?
Inventory tracking, at its core, is pretty simple. When new items come in, you update your inventory levels and make a note of where the products are being stored. When an item is moved, you update the item's location in your inventory management system. When items are sold, you subtract those items from your inventory levels.
The biggest trick with inventory tracking is ensuring that you're staying on top of things and updating your inventory frequently and accurately. Inventory management software can be helpful since it offers more opportunities for automation (like automatically deducting sold items from your inventory), which reduces error. But you definitely can track your inventory manually if needed.
We looked through dozens of inventory management brands to find the best ones with mobile apps. After comparing pricing, features, and usability, we ranked them here.
Disclaimer
At Business.org, our research is meant to offer general product and service recommendations. We don't guarantee that our suggestions will work best for each individual or business, so consider your unique needs when choosing products and services.