Best Ecommerce Website Builders for Small Businesses
Which website builder will help your ecommerce store rise to the top and sell the most products?
Data as of 12/14/22. Offers and availability may vary by location and are subject to change.
* With annual payment
If you need to set up an online store for your small business, chances are your website needs differ from those of a restaurant, dental office, or PR firm. While ecommerce businesses might use a blog to drive traffic to their store, they probably don't need a lot of fancy features or extra pages—just a home page, store page, and maybe an about page.
To that end, we wanted to evaluate the ecommerce capabilities of each website builder. We found that our rankings here differed a little bit from our top website builders review. You'll still see some of the same names, but Wix Ecommerce, Squarespace, and Square Online (formerly Weebly ecommerce) take top honors.
So which platform is the best ecommerce website builder for small businesses? Short answer: It depends on the type of business you're running.
Best ecommerce website builders for small businesses
:

Best overall

:

Best design

:

Most flexible for businesses

:

Best for retail businesses

:

Best for big businesses
How our ecommerce solutions stack up
In analyzing all the ecommerce store builders out there, we identified a few key features that most (if not all) online shop owners will want. Here's how our picks compare in terms of those features:
Best ecommerce website builders comparison
Data as of 12/14/22. Offers and availability may vary by location and are subject to change.* With annual plan
Wix Ecommerce is the best overall
Data as of 12/14/22. Offers and availability may vary by location and are subject to change.
* With annual payment
We were able to create a beautiful store using Wix Ecommerce, but we noticed that we didn't quite get the powerful ecommerce tools offered by dedicated ecommerce solutions like BigCommerce or Shopify.
For instance, we were able to include a lot of details about each product we uploaded, including inventory numbers, custom SKUs, and product weight. But we weren't able to add details like dimensions or custom shipping costs—both details you can add to your products on more large-scale ecommerce options like BigCommerce and even Squarespace.
We were also a bit frustrated with the quirky SEO customization on the builder. For instance, we could customize URLs to help search engines find our site, but Wix would sometimes add random strings of text at the end of our product and blog post URLs. We have to wonder what the point of custom SEO settings are when the builder undoes a chunk of our work anyway.
Still, Wix Ecommerce was easily customizable, and we ended up loving our ecommerce website design—even if the back-end ecommerce features were a little lacking without extra apps to bolster them. Plus, Wix provides enterprise-grade security to all sites with a dedicated security team monitoring everything. It's not just you either—your customers will be protected with secure payments and sensitive data encryption.
So in the end, we think Wix Ecommerce is probably the best website builder for online store owners whose businesses have multiple revenue streams (e.g., a podcast that primarily makes money from its content but sells merch on the side). If ecommerce isn't your big moneymaker—but you do sell some merch on the side—Wix Ecommerce is a great solution.
The pros and cons of using Wix Ecommerce
Easy drag-and-drop interface
Limitless customization options
Extensive app market
Negative customer reviews
No 24/7 customer support
Squarespace has the best design
Data as of 12/14/22. Offers and availability may vary by location and are subject to change.
* With annual plan
Squarespace is hands down the best ecommerce website builder for online store owners looking for high-end site design.
Squarespace templates are sleek and modern and feature plenty of white space. The ecommerce pages are easy to navigate, so your customers can find what they need quickly and easily. And above all, Squarespace designs make your online store look polished and professional.
Even though Squarespace is primarily marketed toward blog owners and brick-and-mortar stores, we were pleasantly surprised to see that Squarespace had the ecommerce website templates and support features to keep up with the big players in the ecommerce space (BigCommerce and Shopify).
All Squarespace plans include mobile-optimized shopping carts, inventory tracking, and more. And with a Basic or Advanced plan, you can also print shipping labels, enjoy integrated accounting, and offer coupons for your loyal customers.
We also loved how easy it was to integrate our Squarespace site with our social media accounts. Every time we posted a new blog post, we could click over to a social media tab within the editor and write a custom post for each social media platform to promote our new piece. Every time we added a new product, we could again click the social tab and draft a separate social media post for each account. And Squarespace customers with a Business plan or higher can even sync their Instagram store with their Shopify store, all of which makes it easier to sell your products.
Of course, Squarespace isn't all happiness and rainbows. Here's our list of pros and cons for Squarespace.
The pros and cons of using Squarespace
Easy-to-use platform
Beautiful site design
Great functionality to support your store and blog
Bit of a learning curve
So-so SEO
Functionality sometimes hidden by tabs and sidebar menu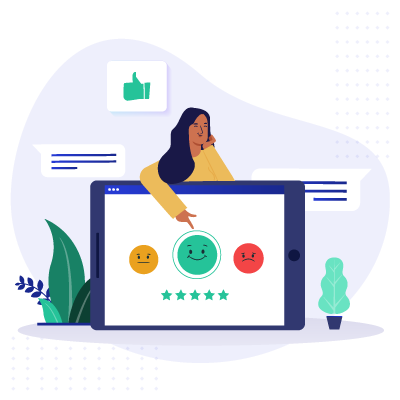 Expert Advice, Straight to Your Inbox
Gain confidence in your business future with our weekly simple solutions newsletter.
Square Online is the best for launching an online store
Data as of 12/14/22. Offers and availability may vary by location and are subject to change.
Square Online is the best platform for small-business owners who are looking to launch an online store.
Square Online offers easy integration into the full Square suite, so you can have a site up-and-running in no time with inventory management and point-of-sale to boot. The platform comes from Square's acquisition of Weebly and builds on Weebly's intuitive drag-and-drop website builder while adding great design features.
Also, the fact that the platform has a free plan is a plus!  In fact, three of Square Online's four plans are cheaper than Shopify and BigCommerce. (The Professional plan is $12/mo. and the Performance plan is $26/mo.) You might think that because the platform is inexpensive that it doesn't offer a lot, but it's actually fairly comprehensive with marketing tools like SEO and multichannel selling available at no cost.
It's our top choice for launching an online store because it guides you through the website building process. When we made a site with Square Online, it asked helpful questions to find the right template for us and then offered tutorials on adding inventory to the site and setting up shipping.
However, it's not all amazing. We wish that Square Online had lower transaction fees (2.9% + $0.30 on the free plan) and didn't require a paid plan to remove Square branding. But, overall, it is a great platform for launching an online store.
The pros and cons of using Square Online
Full Square suite integration
Easy-to-follow design features
Marketing tools
Square branding on free plan
Analytics only available with paid plans
Expensive transaction fees
Shopify is the best ecommerce website builder for retail
Data as of 12/14/22. Offers and availability may vary by location and are subject to change.
Shopify has a pretty solid reputation as an ecommerce website builder. It offers easy integration with your social media sales channels, user-friendly inventory tracking and product management, and even some decent SEO features.
We think one of Shopify's biggest strengths is its ample resources for new business owners.
Shopify offers tools like brand name generators, logo makers, and in-depth tutorials on how to start your business, all of which helps you develop your company long before you're ready to actually build a site. And once you are ready to build that website, Shopify has webinars, videos, and tons of customer support options to help you learn the Shopify platform and get what you need.
In our opinion, that makes Shopify the best ecommerce website builder for small business owners who are just starting out.
But it's certainly not a perfect service. We were really disappointed with the overall design quality of our Shopify store, and the website builder itself was a bit unwieldy. To really get your Shopify site to look professional, you'd have to pay for a premium theme, comb the app store for plugins to give you the features you want, or possibly both.
That's a lot of time that business owners could be spending interacting with their customers, producing more product, or planning their next business move.
The pros and cons of using Shopify
Easy-to-use product management
Resources for new businesses
Inventory tracking
Good SEO
Confusing dashboards
Limited options on free templates
Extra transaction fees on credit cards
Poor design on free templates
BigCommerce offers large-scale ecommerce solutions to help your business grow
Data as of 12/14/22. Offers and availability may vary by location and are subject to change.
If your online shop is the core of your business, you should definitely consider BigCommerce.
For starters, creating an online store with BigCommerce is a breeze. Simply uploading products automatically creates your ecommerce store, so you don't have to do any extra work to make your shop functional and well-designed. Plus, you can add a ton of details about each product (like product dimensions and bin picking numbers), all of which make it easier to fulfill orders once they start coming in.
In terms of ecommerce features, we love that BigCommerce doesn't charge transaction fees, and it's compatible with big-name carriers (like USPS and UPS) and payment gateways (like Square, Stripe, and Apple Pay).
It's also pretty decent in terms of search engine optimization (SEO). The platform allows you to customize your page titles and easily update the meta descriptions that show up in Google searches under each page title. All of these tools help search engines find your site when your prospective customers search for terms related to your business.
On the whole, BigCommerce makes it pretty easy to get the support your online business needs to function. But it's not a perfect solution.
While many ecommerce features are integrated with your basic BigCommerce service, there are some that require additional apps. So it may take a bit of extra work to get every single feature you need. And if you need anything more than a basic home page and store, you may struggle—BigCommerce's platform isn't really set up to make additional pages (at least not ones that look professional).
The pros and cons of using BigCommerce
Powerful ecommerce features
Easy-to-navigate site-building interface
Attractive store design
Limited free themes
Complicated customization
Negative customer reviews
The right ecommerce site builder for your business will depend a lot on your budget, your business, and your timetable. Wix Ecommerce is a good all-around builder with unlimited products and the ability to sell on social channels. Squarespace offers great value for ecommerce owners and helps you easily build a site. Square Online allows customization of your online store with full Square integration. Shopify has tons of resources for new businesses, making it a real draw for first-time ecommerce store owners. And BigCommerce offers all the back-end ecommerce support you need to run your business effectively.
But the all-around best ecommerce website builder for small businesses has got to be Wix. It's got secure online payments, customer accounts, storage space, and a free domain for the first year. It doesn't hurt that it's our top website builder, too. 
So go ahead and build the next great online store!
Looking to build a site for a brick-and-mortar business? Want to create a professional online portfolio? Check out our guide to the best website builders for more.
FAQ about website building for ecommerce businesses
SEO stands for search engine optimization, which is basically a fancy way of saying, "Things you do to help your site get found by Google." You want to get on the radar of Google and other search engines because it helps customers find your business more easily and more often when they search the web. Basically, SEO is an essential tool to increase traffic to your ecommerce store and build up your brand's online reputation.
SSL certificates are not only important—they're essential. An SSL certificate verifies that your site follows the minimum security guidelines needed to keep your customers' information safe.
If you don't have an SSL certificate, customers visiting your site will be greeted with a big red-flag message, warning them that your site may not be safe. That doesn't do much to inspire trust. What's more, not having an SSL certificate is really bad for your SEO. Search engines don't want to recommend sites that may not be safe.
Fortunately, all of the website builders we've recommended above offer SSL security certificates, so you should be OK. 
All websites need to be hosted somewhere. Fortunately, all the website builders we've featured above do include ecommerce hosting as part of your service. Most even offer a free domain name for the first year of your service, so you don't have to pay for your domain, your ecommerce hosting provider, and your website builder separately.
Of course, most web builders still let you host your website somewhere else. To find out more, you can check out our guide to the best web hosting providers.
For this piece, we focused on ecommerce website builders that were as easy to use as possible. And let's face it, WordPress with the WooCommerce plugin is not easy to use.
Sure, there's a lot that you can do with the WooCommerce plugin. But the learning curve for WordPress is so steep that we didn't really consider the WooCommerce plugin a viable option for most small-business owners.
But if you do have a bit more time dedicated to building your site and you want complete control over every single aspect of your ecommerce site, the WooCommerce plugin could be a great option for you.
The GoCentral website builder is another great option for building your site. We just thought there were stronger options that were more geared toward ecommerce businesses.
If you're asking this question, we don't know whether to applaud your excellent research skills or give you a big hug and a mug of cocoa because you've been sucked too deep into the rabbit hole of researching the best website builders for your business.
Here's the deal: Laravel framework is an open-source project that can be used to deploy and maintain applications (among other things). CRUD is short for creating, reading, updating, and deleting—a vital process within most apps. Laravel CRUD is basically a function of the Laravel framework that makes the CRUD process easier.
Do you need to know any of this before building a website for your small business? No, probably not. And if you do, you're probably a developer with a lot more experience than us at building apps and websites. So maybe you should be the one filling us in.
Best Website Builders for Small Business
For our rankings of the top ecommerce website builders, we looked at what each platform offered in terms of ecommerce and how easy it was to build a store with the builder. We looked at usability, design, and customization along with regular ecommerce features like product limits, payment gateways, and inventory management. The extra functionalities are what really impacted a lot of our star rankings when compared with regular website builders. Pricing and plans were also a major consideration in our rankings.
Disclaimer
At Business.org, our research is meant to offer general product and service recommendations. We don't guarantee that our suggestions will work best for each individual or business, so consider your unique needs when choosing products and services.